Download Conquer the Tower – A strategy tower defense game to conquer the opponent's tower
Conquer the Tower: Takeover is a classic and engaging tower defense game where players participate in battles to seize the opponent's castle by leading a powerful army and deploying smart strategies. With a diverse map system and numerous challenging levels, playing Conquer the Tower is an effective way to test your intelligence and reflexes.
Conquer the Tower – Establish an unbeatable tower defense strategy
Featuring beautiful graphics and deep gameplay design, Conquer the Tower offers a strategic gaming experience. Players will face various challenges and situations, from coordinating their army, constructing and upgrading bases to connecting and arranging defensive towers within the castle.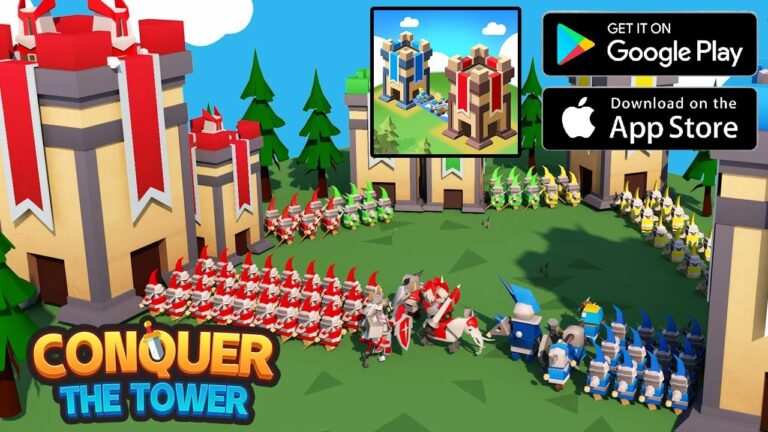 Download Conquer the Tower for Android, iPhone, and PC – Rise as the conqueror of the continent's towers
Conquer the Tower allows players to showcase their leadership skills as a castle lord by creating flexible defensive strategies. You'll have to decide how to use resources wisely and determine the optimal team composition and defensive positions to counter the opponent's attacks.
A standout feature of Conquer the Tower is the customization and upgrading of player bases. You can build and upgrade defensive towers, enhance weapons and equipment for your army, thereby increasing your defensive and offensive capabilities.
Another tower defense game with an intriguing wuxia and xianxia theme for mobile is "Liên Quân Thủ Thành." In this game, players must demonstrate their martial prowess by leading their heroes to build a sturdy defensive tower and thwart the enemy's massive waves of attacks.
In addition to tower defense battles, Conquer the Tower also offers social activities within a large player community. You can join alliances, trade resources, participate in special events, and even compete against other players worldwide.
Download Conquer the Tower for iPhone, Android, and PC
With Conquer the Tower, you'll immerse yourself in a strategic world full of challenges and excitement. This game requires strategic thinking, decisiveness, and leadership skills to maintain your domain. Download Conquer the Tower now and embark on your journey of conquest to defend your castle.
Highlighted features of Conquer the Tower: strategy game, tower defense game, strategic tower defense game.