Alien Shooter – Vengeance
Alien Shooter 2 is part 2 of the popular alien shooter series Alien Shooter on the computer. Alien Shooter 2 includes 2 parts, Alien Shooter 2 – Conscription and Alien Shooter – Vengeance.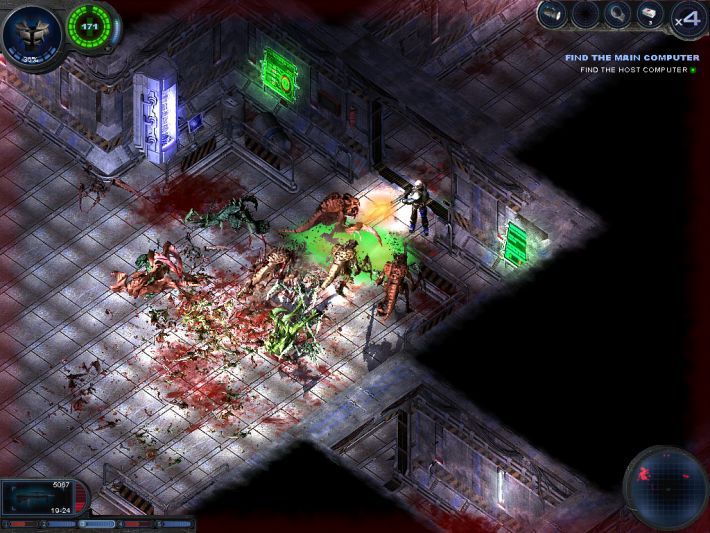 Alien Shooter – Vengeance is considered an upgraded version of Alien Shooter 1 with a blend of classic fighting action style with role-playing and fantasy shooting. An interesting combination of traditional gameplay and modern weapon systems, rich characters have made a difference for Alien Shooter – Vengeance compared to other shooter versions.
Alien Shooter – Vengeance is often referred to as Alien Shooter 2. The main gameplay is a 3rd person shooter TPS. Players will go through about 17 missions to prevent aliens from invading the earth.
Alien Shooter – Vengeance is still developed by Sigma Team and published by CDV. Another special feature is that you can create characters to your liking to participate in secondary action role-playing battles in Alien Shooter 2. Note that this version also has another name, Alien Shooter 2 Reloaded. with a demo version to play with.
Alien Shooter Vengeance owns a pretty deep storyline, but as a player, you also have the right to develop the story in the direction you want, add missions, choose and upgrade characters at will to create battles. The most epic alien extermination.
Highlights of the game Alien Shooter – Vengeance
Use vivid shadows and lighting effects.
Kill over 10,000 monsters on each map. There will be about 100 monsters appearing on the screen at the same time for you to destroy.
Fight in different weather conditions such as fog, rain, storm…
Customize NPC characters.
More than 50 weapons to destroy, burn, freeze… enemies.
More than 20 types of useful tools such as flashlights, radars… to support combat.
3 main game modes are Campaign, Survive and Network.
Sound effects and epic background music.
System Requirements:
1.7GHz CPU processor.
Video card nVidia GeForce2/ATI Radeon 8500 or higher with 32MB video memory.
Minimum 256MB RAM.
DirectSound compatible sound card.
Use the mouse to control.
Cheat code when playing game Alien Shooter 2
Remgamma: delete gamma in the game board.
Stwnn: complete the level.
Cheat: get 1000 HP.
St1: get 15,000 HP.
St2: immortal.
Stammo: Increases armor.
Stexp or cheatexp: add enough EXP to level up.
Cheats: -+50 on speed skill.
Cheatw: -+100 skills on reloading weapons.
Stkk: destroy all monsters within a 1000 pixel radius from the character.
Stk9: Kill all monsters on the map.
Stgod: unlock all skills (except perk) 100 or 200, plus 50,000 virtual currency.
Stm or cheatm: -+10,000 virtual money.
Stshop: load the shop at the level you are playing.
Stmus[x]: open x number of tracks.
Stmusstop: stops the current track.
Stat: enable or disable current statistics.
Note: to activate the cheat code, enter the letters on the computer keyboard while playing. In Survive mode, cheat codes are not supported.
Compared to Alien Shooter 1, Alien Shooter 2 stands out with the ability to customize characters and monster-filled maps so that you have your eyes on every battle. If you love shooting games in general and alien killing games with fantasy elements in particular, don't forget to download Alien Shooter Vengeance today to experience the action role-playing battles mixed with shooting. Special TPS.