WeChat for Android
WeChat for Android is a chat application that supports Android devices, acting as a form of social network connecting members through very convenient free messaging or video calling. This application also allows to create group conversations with people with similar interests and easily add friends with just a shake of the phone screen.
WeChat for Android is a very convenient chat tool for Android users, has just appeared and has been welcomed by the community, becoming one of the most popular mobile applications today. With WeChat, young people freely exchange and make friends, express their personality through Video calls, audio or text messaging directly on their mobile devices.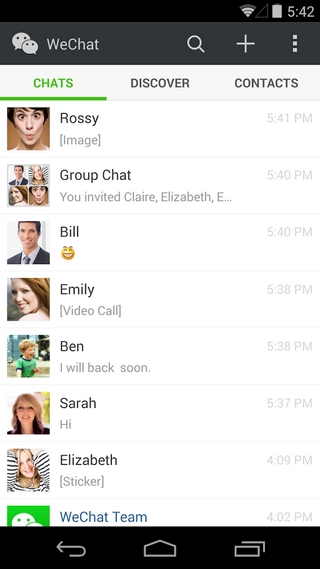 WeChat for Android has the ability to create group conversations that help you find people with similar interests or interests and chat with them. The advantage of this utility is that it can create Video calls with sharp HD quality to help you and your audience talk more easily. Message content is stored locally for quick review, easy photo sharing when texting.
WeChat for Android helps you find and add friends with just a few taps of your phone, the contact list is synced with the phone book. This application also supports on the Web platform to connect calls from mobile devices to computers. In addition, it also supports many different languages ​​​​in the world, creating a large community link.
Main features of WeChat for Android:
– Free chat app on Android
– Text or call for free
– Make HD video calls
– Share photos via SMS
– Save message history
– Create group conversations
– Search easy friends
Some more pictures