Download Mr. Pain – Special Agent Torture Game, Fun 2D Graphics
Mr. Pain is a unique action game that combines the intensity of puzzle-solving games with the challenge of torturing special targets. With cute 2D graphics and familiar ragdoll torture gameplay, Mr. Pain promises to bring entertaining and stress-relieving torture challenges to players.
Mr. Pain – Perform bloody torture missions
In Mr. Pain, players take on the role of a violent and sadistic character who enjoys torturing helpless targets using their anti-gravity gun. This is not a game for the faint-hearted, as it immerses players in tense and dramatic situations that require wisdom and patience.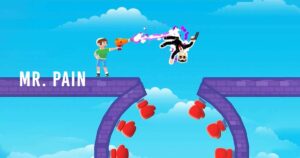 Download Mr. Pain for Android, iPhone, and PC – Challenge yourself with strategic torture puzzle missions
Similar to the ragdoll torture game Ragdoll Dismounting, Mr. Pain offers a variety of deadly weapons for players to indulge in their violent gaming passion, creating bloody torture scenes with chainsaws, spikes, acid pools, electric bars, and more. With each successful completion of a mission to eliminate special agents, you'll earn money and unlock new torture weapons.
Last Play Ragdoll Sandbox is a sandbox torture game where you can throw and manipulate characters like dolls, creating a unique entertainment environment with various gameplay modes. Last Play allows you to be creative and experiment with countless scenarios of destruction with ragdoll figures, from building mini-games to creating unlimited, hilarious situations, ensuring memorable destruction scenes.
Mr. Pain not only focuses on action but also requires players to think smartly. The puzzles and situations demand logic and keen observation. You'll need to figure out how to activate technical mechanisms, even experiment to eliminate special agents as quickly as possible, protecting the innocent and advancing in the game.
The uniqueness of Mr. Pain lies in its combination of fast-paced action with intricate puzzle-solving, creating a unique and different gaming experience. Additionally, players can challenge themselves with increasingly difficult levels, ranging from easy to hard, ensuring a continuous challenge for players.
Download Mr. Pain for iPhone, Android, and PC
Download Mr. Pain to your device and experience its outstanding features:
Relax and relieve stress with challenging torture missions.
Rich selection of deadly torture weapons.
Diverse levels from easy to difficult.
Cute graphics, realistic design, lively sound effects.
Prominent features of Mr. Pain: puzzle-solving game, simulation game, ragdoll torture game.