My Perfect Hotel is a fun and fast-paced hotel management simulation game that puts players in the shoes of a hotel manager with the task of building and managing a fantastic resort. With beautiful graphics and exciting gameplay, My Perfect Hotel offers a memorable experience for those who love management and business-related games.
1. My Perfect Hotel – Develop a 5-Star Resort
In My Perfect Hotel, you start as a simple security guard with an empty piece of land and a goal to turn it into a perfect resort. You can build and customize every part of the hotel, from bedrooms and restaurants to recreational facilities and swimming pools. The flexibility in design allows you to showcase your creativity and create unique spaces as you wish.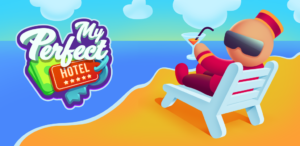 As a hotel manager, you must manage staff and take care of My Perfect Hotel's customers to the best of your ability. This includes controlling reservations, meeting their needs, and ensuring the quality of service to make guests happy. Each customer has specific requirements, and good management skills will help you progress and quickly grow your hotel.
Hotel Empire Fever is also a hotel management simulation game where you have the opportunity to build and operate your own hotel empire. In Hotel Empire Fever, you take on the role of a hotel manager, constructing buildings, rooms, and amenities to attract and serve diverse guests with the goal of creating a top-notch hotel, optimizing profits, and becoming a successful entrepreneur in the hotel industry.
My Perfect Hotel is not just a building game; it's also a business strategy game where you have to manage finances, invest in the right direction, and plan long-term development to create a successful chain of hotels. Use resources wisely and make strategic decisions to maximize profits.
2. Download My Perfect Hotel for iPhone, Android, and PC
My Perfect Hotel is an exciting hotel management game with an excellent blend of simulation and business strategy gameplay. Join the journey of building and managing your own hotel and showcase your management talents in this field.
Key Features of My Perfect Hotel:
Build and customize the hotel to your liking, Experience all aspects of real-life hotel management, Diverse tasks and goals to challenge and strive for, Impressive graphics and lively sounds.