Download mySolarEdge – Remote Smart Device Control Tool
mySolarEdge is a smart application that helps users manage and monitor solar energy systems easily and conveniently. Developed by SolarEdge Technologies, one of the pioneering companies in the solar energy technology field, mySolarEdge offers many useful features to optimize performance and energy savings.
mySolarEdge – Monitor Solar Energy System Performance
With a user-friendly and easy-to-use interface, mySolarEdge provides essential information about your solar energy system, such as electricity production, consumption, and surplus. In addition, users can track consumption history to gain insights and plan energy-efficient savings.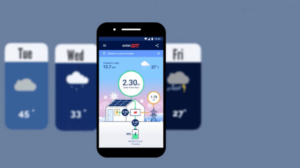 Download mySolarEdge for Android, iOS – Optimize PV system efficiency
Moreover, mySolarEdge regularly alerts users to events related to the solar energy system, allowing them to react promptly and minimize the risk of unnecessary incidents. Furthermore, mySolarEdge provides statistical data and visual charts to help users better understand the performance of the photovoltaic system.
mySolarEdge goes beyond just management; it also allows you to control devices related to solar energy. This includes customizing settings, checking the status, and monitoring the operation of various components such as Battery Health and inverters.
Download mySolarEdge for iPhone and Android
With mySolarEdge, managing and monitoring solar energy systems has never been more convenient. mySolarEdge contributes to optimizing energy, protecting the environment, and saving small costs for households.
Provides detailed information about solar energy system performance.
Statistically charts electricity consumption over time.
Alerts important events and anticipates worst-case scenarios.
Remote management of PV energy devices.
Intuitive, user-friendly interface and access.
Key Features of mySolarEdge: solar energy system management, PV system monitoring, smart device monitoring.