Download Navbar Apps – Customize and Change Navigation Color for Mobile
Navbar Apps helps users customize the navigation bar on their mobile devices in a useful way. With Navbar Apps, users can choose from various decorative styles for the navigation bar, along with options to change colors and set certain objects.
Typically, modern Android smartphones have three touch-sensitive navigation keys placed on the screen. These keys can be quite dull and challenging to change if your device is not rooted. However, users can still modify and enhance the navigation bar using the Navbar Apps utility.
In addition to that, Android users who wish to view system information on their devices can use the CPU-Z for Android utility. The CPU-Z app for Android allows you to view information such as the type of processor in use, the speed of each CPU core, and details about CPU usage. This information can help you accurately identify the internal components of your CPU for any necessary modifications or upgrades.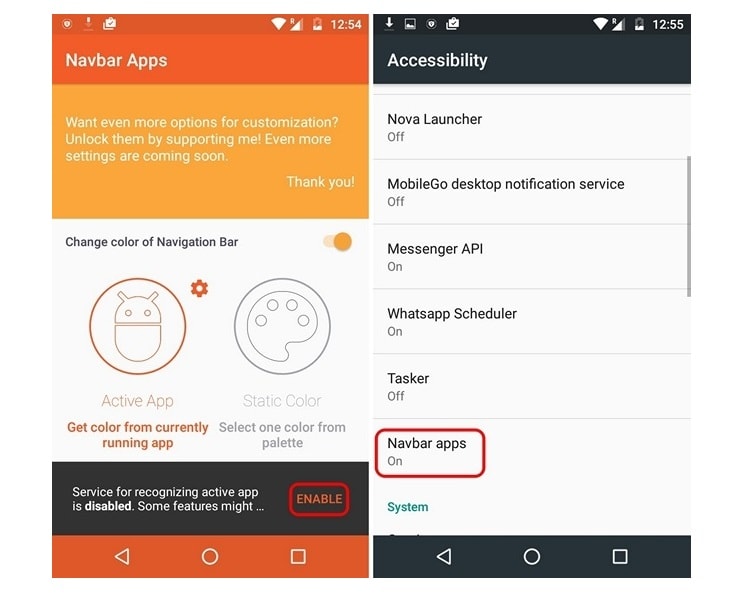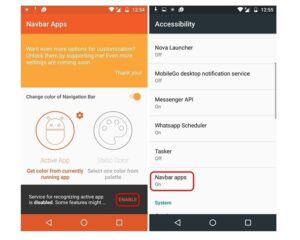 Navbar Apps allows users to customize the colors of the navigation buttons to their liking. Furthermore, you can also set the navigation bar's color to match the apps on your device when they are active. WOW Navbars is another app with similar functionality that allows you to personalize the navigation bar according to your preferences. Additionally, WOW Navbars is user-friendly and doesn't require rooting your device.
Navbar Apps for Android also enables users to turn their navigation bar into a place that displays battery status and notifications for the remaining battery life on their device. As your battery level decreases, the red color under the bar increases. To access this feature, simply tap on the "Battery" option.
Furthermore, if you want to display more information, such as data usage and available memory, you can use the Micro CPU Monitor app in addition. After installing and using the Micro CPU Monitor app, it will display information about CPU usage, helping you monitor which apps are consuming the most power and CPU resources on your smartphone.
You can also explore the GIFWrapped app for searching and sharing GIF animations on your mobile device to send to your friends. With GIFWrapped, you can also preview image quality and resolution.
Key Features of Navbar Apps:
Customize the color of the navigation bar.
Set navigation bar colors to match compatible apps.
Display battery status notifications.
Notable Feature of Navbar Apps: Customizing the navigation bar for phones and mobile devices.